An important thing to note…
SPLC notes that these reports are largely anecdotal as every incident could not be immediately, independently verified.
That's right, these aren't verified BUT we hope you enjoyed our list of made up hate crimes.
Two Northwestern University freshmen were charged on Saturday with hate crimes and vandalism after admitting to spray-painting offensive symbols on the walls of a nondenominational campus chapel, the Chicago Tribune reported.

Anthony Morales, 19 (at left), and Matthew Kafker (at right), 18, spent Saturday in jail and court, where they were reprimanded by Cook County Judge Peggy Chiampas. "These allegations are disgusting to me," she said during their bond hearing. "I don't know if any of you know how lucky you are to be at Northwestern University."

Their bail was set at $50,000.

Police said the students were filmed by security cameras breaking into the chapel on Friday night. The next day after which they appear to have spray-painted swastikas, pictures of genitals, racist slurs against African Americans and Muslims, homophobic slurs, and the word "Trump," according to the Tribune.
In one of the widely-shared stories, a black woman claimed that four white men had threatened her while she was pumping gas at a Smyrna, Delaware, gas station Wednesday. After talking about things would change now that Trump was president, one of the men allegedly approached her and asked, "How scared are you, black bitch?" before saying "I should kill you right now. You're a waste of air." Another of the men allegedly flashed a gun and said, "You're lucky there's witnesses or else I'd shoot you right here."

The woman, Ashley Boyer, posted about this awful incident on Facebook in an update that was since deleted; on Thursday, she followed up by noting that "charges were filed, fugitives were caught." But when PhillyVoice contacted Smyrna police Thursday, the department said no report about such an incident had been filed and no one had contacted them about anything similar. So PhillyVoice reached out to Delaware State Police… who reported that no neighboring police agencies had received any such reports either, and there was no record of any local 911 calls about such an incident. "There is no record of this occurring in Smyrna, if at all," said Corporal Brian Donner of the Delaware State Police.

The second alleged incident, out of Minnesota, involved an Asian college student named Kathy Mirah Tu who said she was accosted by a white man while crossing a bridge on the University of Minnesota-Twin Cities campus. "I was stop in my tracked by a white male, who yelled at me to 'Go back to Asia,'" Tu posted to Facebook, in an update that had received more than 17,000 shares as of Thursday evening. "I pretended to not hear any thing and continue on walking since I didn't want to create conflict. Shortly after that moment, I was stopped by that same man who told me 'Don't you know it's disrespectful to walk away from someone when they are talking to you?" After that, the man grabbed Tu's wrist and threatened to hit her so she punched him, according to her post. "His friends who were watching the entire situation go down saw that I was going to the win fight and came over to his rescue and accused me of assaulting him and called the police."

According to Tu, the police arrived and handcuffed her but eventually let her off with a warning. Yet neither the campus police nor the Minneapolis Police Department have any record of the incident Tu describes. "We heard complaint from student related 2 Wash bridge yestdy, UMPD didnt respond to bridge or make an arrest," the University of Minnesota Police Department tweeted Thursday, also asking Tu or anyone who did know about the alleged incident to come forward. Here was the response from the city police: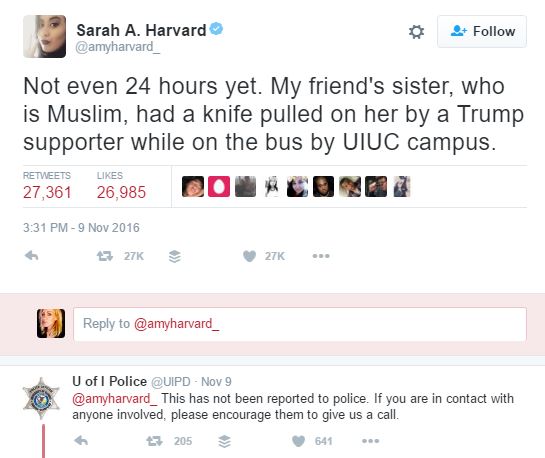 Here are some things tha thave actually happened, you'll notice there are actual cops involved and not a submission form on a liberal website….
Filed under: Uncategorized |