7:00 AM – 7 Things You Should Be Talking About Today
8:00 AM – Hate at 8!!
8:20 AM – State Senator Arthur Orr
9:00 AM – 7 Things You Should Be Talking About Today
9:20 AM – AL.com's Cameron Smith
10:00 AM – Top Ten Tweets at Ten
10:20 AM – 3rd Rail Politics' Rex Davis
10:50 AM – Alabama Football legend Scott Hunter
---
This woman is mentally ill…
She is not one who should be talking about someone putting their "interests ahead of the laws and values" of the US?
Unbelievable.
Who are these undecided voters…
---
---
---
Impeachment subpoenas issued for Bentley and Rebekah Mason…
---
Cameron Smith breaks down the two party platforms…
Does anyone care? No.
---
The Secretary of State's office screwed up on 2.7 million ballots…
The Secretary of State's office will reprint the state's November election ballots after discovering the most recent version omitted key language describing a constitutional amendment aimed at protecting state park funding.

As originally printed, Amendment 2 on the ballot would give the state's Department of Conservation and Natural Resources the ability to allow private entities to operate hotels and golf courses in Alabama. That was in the original amendment, sponsored by Sen. Clay Scofield, R-Red Hill.

But that wasn't its main intent. The ballot left off language that prevented the Legislature from using any money for the "support, upkeep and maintenance" of the park system for other purposes. The amendment aims to protect funding for parks – largely collected from guests – from attempts to distribute it for other purposes.

Secretary of State John Merrill Thursday said an employee in his office made a transcription error.

"The employee that was transferring the information from the legislation to the ballot, the information that was recorded and sent to the Secretary of State, did not read everything that was written down," Merrill said. "That individual actually left that out."

The error will require 2.7 million ballots to be reprinted. The cost of the reprinting was undetermined, Merrill said.
They say the SoS issues will eat the cost, that's a good way of saying "taxpayers will pay for it".
FYI: Absentee voting is currently happening in Alabama.
---
Seriously?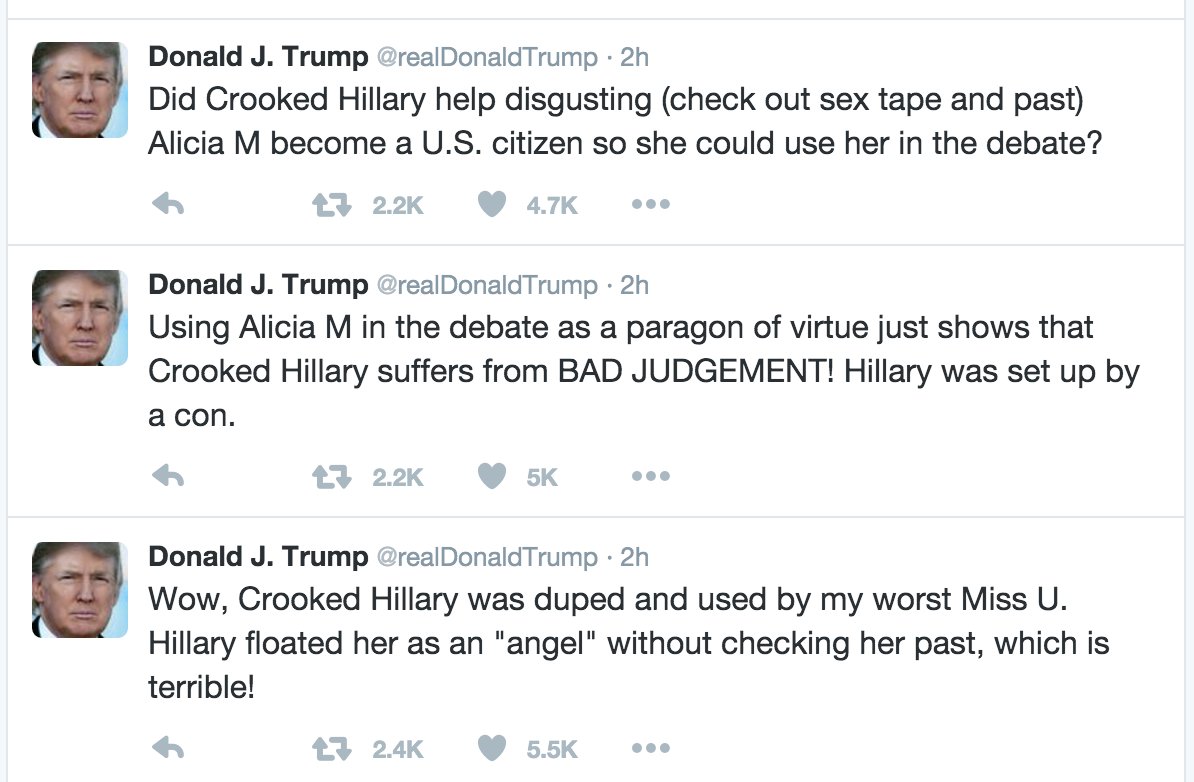 This is really smart, keep the fat beauty queen story alive a few more days…
---
POLLING. BLOOD. BATH. SNAPSHOT.
Race/Topic   

(Click to Sort)

Poll
Results
Spread
General Election: Trump vs. Clinton vs. Johnson vs. Stein
Rasmussen Reports
Clinton 42, Trump 41, Johnson 7, Stein 2

Clinton +1

General Election: Trump vs. Clinton
LA Times/USC Tracking
Clinton 43, Trump 47

Trump +4

California: Trump vs. Clinton vs. Johnson vs. Stein
KABC/SurveyUSA
Clinton 59, Trump 33, Johnson 3, Stein 2

Clinton +26

Missouri: Trump vs. Clinton
Remington Research (R)*
Trump 49, Clinton 39

Trump +10

South Carolina: Trump vs. Clinton vs. Johnson vs. Stein
Winthrop
Trump 42, Clinton 38, Johnson 6, Stein 3

Trump +4

California Senate – Harris vs. Sanchez
KABC/SurveyUSA
Harris 40, Sanchez 29

Harris +11

Missouri Governor – Greitens vs. Koster
Remington Research (R)
Koster 51, Greitens 35

Koster +16

President Obama Job Approval
Gallup
Approve 51, Disapprove 45

Approve +6

President Obama Job Approval
Rasmussen Reports
Approve 51, Disapprove 47

Approve +4
---
I call them the Right's Safe-Spacers, George Will calls the Trump's troll army…
Noah Rothman calls is paranoia…
Filed under: Uncategorized |