7:00 AM – 7 Things You Should Be Talking About Today
8:00 AM – Hate at 8!!
8:20 AM – Dr. Waymon Burke
9:00 AM – 7 Things You Should Be Talking About Today
9:20 AM – AL.com's Roy Johnson
10:00 AM – Top Ten Tweets at 10
10:20 AM – Liberal Tuesday with All That's Left's Clete Wetli
---
How heroic is Hillary?
Super heroic…
At the same time, she did what all women do…
I suspect she didn't say anything because, well, that's what women do. They power through. They don't want to make a big deal. They just keep going, especially when you're only 3 percentage points ahead in the polls and you're just weeks from Election Day.

Women deal with this sort of thing every day, but on a much smaller scale.
She's a secretive fraud…
These are pros by the way…
---
Alabama Congressman Gary johnson calls BS on Hillary Clinton…
---
Mike Pence won't call David Duke deplorable? Sure, because that's Clinton's branding…
Commence phony freak out…
Liberals:
Conservatives:
Go watch the clip.
He denounces Duke clearly.
---
Colin Kaepernick took a knee during the national anthem before the San Francisco 49ers home opener at Levi's Stadium.

As violinist Lindsey Stirling played "The Star Spangled Banner," Kaepernick and teammate Eric Reid remained on a knee. The players protested as military personnel held up a football-field-sized flag feet above the field. A banner in the seats at one end zone read: "Home of the Faithful."
San Francisco 49ers quarterback Colin Kaepernick is expected to be the No. 2 quarterback for Monday Night Football, and he went out for his pre-game workout just a bit ago.

Matt Barrows and Cam Inman both got some vide of Kaepernick coming out of the tunnel. He stopped to sign a couple autographs for a fan, and was sporting a corn row look, as opposed to the afro he has had the last two games.
More dummies join.
At least four other players offered other protests.

San Francisco linebacker Eli Harold and safety Antoine Bethea raised black-power fists during the song. Los Angeles Rams defensive end Robert Quinn and wide receiver Kenny Britt also held up fists.
ESPN announcers swoon…
ESPN color commentator Steve Young praised Kaepernick as "thoughtful" after the anthem. "It's really raised consciousness," he claimed, "and it's a wonderful thing." Play-by-play man Chris Berman credited Kaepernick with opening up a national "discussion."
What exactly is the end game here?
What has to happen for this to stop?
---
No surprise here…
None issue, it's a joke.
---
The NCAA is terrible…
The North Carolina GOP gets it exactly right…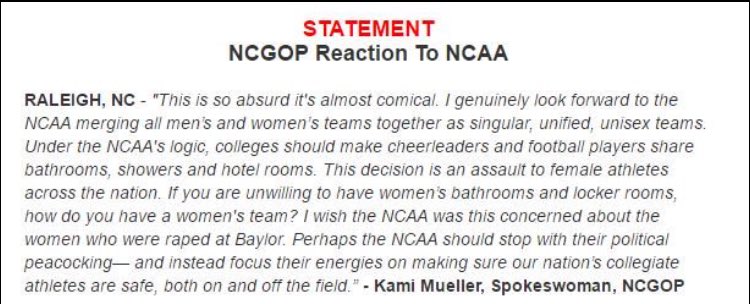 ---
So gambling is back in Alabama?
Did it solve our financial issues?
---
Conservatives are coming around…
---
Hillary Clinton does NOT want to have sex with me?
Joe Garcia, the former Miami Democratic congressman running for his old seat, told supporters in a candid moment over the weekend that Hillary Clinton "is under no illusions that you want to have sex with her, or that she's going to seduce you."

Why Garcia went there is unclear. He was secretly recorded by a political "tracker" as he spoke informally at a Key West Democratic campaign office opening Saturday, video obtained by the Miami Herald shows.

The video — recorded upside down as if a cellphone was in the tracker's hand — showed Garcia standing in an office hallway with a few other men, apparently before Garcia was scheduled to address the full crowd. Clinton signs decorate some of the walls.

"I believe that we're going to have — I'll mention it when I speak — I believe we're about to see the most consequential presidency that we've seen since Lyndon Johnson," Garcia says. "This is not because I think Hillary Clinton is the greatest ever. But I do believe she is extremely, exceedingly competent, and she — I know this is going to sound weird to you, but to me, as somebody who studies history, she's going to be very similar to Lyndon Johnson.

"Lyndon Johnson wasn't a particularly charming man, wasn't a particularly nice man: He would ask you nice, and then when you didn't do it, he made you do it," Garcia continued. "And Hillary is under no illusions that you want to have sex with her, or that she's going to seduce you, or out-think you."

One of the men in the hallway then makes an inaudible comment.

"I don't want to be offensive to women," Garcia responds. "What I'm talking about is exactly that: It's getting it done. Unlike Obama, who has this profound sense that logic can move people — it can't move crazy. That's trending in the Republican Party."
Good.
---
POLLING. BLOOD. BATH. SNAPSHOT.
| | | | |
| --- | --- | --- | --- |
| Florida: Trump vs. Clinton vs. Johnson vs. Stein | JMC Analytics | Trump 46, Clinton 42, Johnson 3, Stein 1 | Trump +4 |
| Michigan: Trump vs. Clinton vs. Johnson vs. Stein | FOX 2 Detroit/Mitchell | Clinton 45, Trump 39, Johnson 7, Stein 1 | Clinton +6 |
| Michigan: Trump vs. Clinton | FOX 2 Detroit/Mitchell | Clinton 47, Trump 42 | Clinton +5 |
| Utah: Trump vs. Clinton vs. Johnson vs. Stein | UtahPolicy/Dan Jones | Trump 39, Clinton 24, Johnson 13, Stein 0 | Trump +15 |
| General Election: Trump vs. Clinton | LA Times/USC Tracking | Clinton 44, Trump 44 | Tie |
| President Obama Job Approval | Gallup | Approve 51, Disapprove 45 | Approve +6 |
| President Obama Job Approval | Rasmussen Reports | Approve 51, Disapprove 48 | Approve +3 |
| Direction of Country | Rasmussen Reports | Right Direction 30, Wrong Track 63 | Wrong Track +33 |
---
Iran's most terrible folks were given cash directly by Obama…
---
Fear not the mattress store that made a tasteless joke has closed…
Filed under: Uncategorized |